Not sure if people in other parts of the world are aware that a certain US congressman has emphatically stated that only sluts and prostitutes have sex outside of marriage - I guess you can say anything if you want to put less money into health insurance companies paying out for birth control.
I was so thrilled to get a link to this creative idea:
http://jezebel.com/5894402/knit-a-uteru ... an-in-need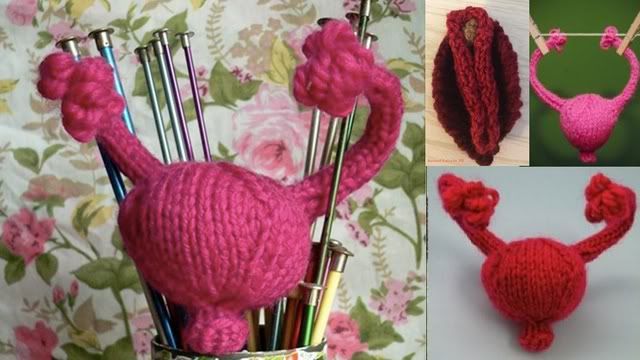 Knit a Uterus to Donate to a Congressman in Need
Remember when we decided that Rick Santorum needed a uterus of his very own so he'd leave ours alone? Well, now there's a similar idea being proposed for the members of Congress across this great land who seem so insistent on getting all up in our lady parts since they're jealous they don't have any of their own. So how exactly are we going to make that happen, since we can't, you know, give them actual uteruses? Enter Government Free VJJ, a project which aims to have have ladies knit or crochet lovely versions of uteruses (plus cervixes and vulvas) and mail them to their representatives.
If you've got some spare time and know how to knit or crochet, pick one of these patterns (or devise your own), fill out this form so they can keep track of who's getting what, and then mail off the finished product to the statesman of your choice. It might not end the war on women, but at least it will give our beloved representatives something soft to cuddle when they have nightmares about slut-demons and whore-monsters taking over the world with our birth-control riddled godzila-sized vaginas